Are you looking for a restaurant that offers a delicious meal at less than $25? Well, then Applebee's is a perfect spot to visit with your family and friends. Applebee's 2 for $25 Menu is here with so many appetizers and Entrees on its offers at a great nutritional value.
Let it be the grilled Chicken or boneless Chicken wings, this deal is certainly going to save you many bucks into your pockets.
You can also customize your own plate with Appetizers and Entrees using this deal. Applebee's promise you healthy meals with uncompromising taste at great offers.
So, we have detailed an article here to provide you information about 2 for $25 Menu at Applebee's.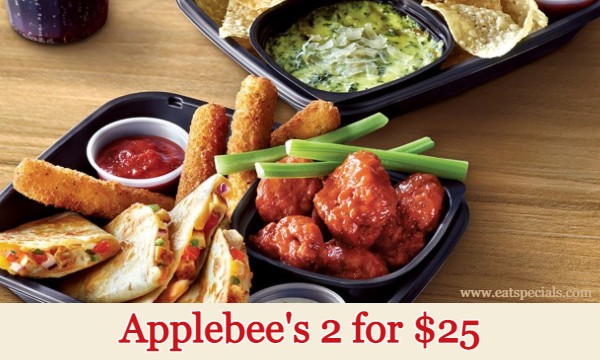 What is Applebee's 2 for $25 Menu?
Applebee's 2 for $25 menu is one of the most popular and astounding deals to end your food craving. This amazing deal is an excellent opportunity to try many famous items from Applebee's original menu at reasonable prices and combos.
So, if you are confused about how this deal works, then here is the answer. This deal includes Appetizers and Entrees such as Burgers, Steak and more Chicken dishes. You have to choose an "Appetizer" and then select any "Two Entrees" just for $25.
Applebee's 2 for $25 is something we recommend you to try during your visit to their restaurant. The Menu items and prices may vary by location. be certain to check with your local Applebee's to know the deals they offer you.
Applebee's 2 for $25 Menu Deal Options
If you are craving for something flavorful, crispy and spicy then Applebee's Menu 2 for $25 is definitely designed for you.
So, here is a list of items which has Entrees and Appetizers from Applebee's 2 for $25 Menu,
Appetizers
Mozzarella Sticks
Crunchy Onion Rings
Two Side Salads
Boneless Wings
Spinach & Artichoke Dip
Full-Size Entrees
Riblet Platter
Grilled Oriental Chicken Salad
Fiesta Lime Chicken
Double-Glazed Baby Back Ribs
Classic Cheeseburger
Classic Broccoli Chicken Alfredo
Classic Bacon Cheeseburger
Chicken Tenders Platter
Bourbon Street Chicken & Shrimp
Blackened Cajun Salmon
6 oz Top Sirloin
8 oz Top Sirloin
Whiskey Bacon Burger
Applebee's Menu 2 for $25
Applebee's specializes in offering you more quantity of food at super special offers. So here is more information about items on their Applebee's 2 for $25 menu to help you select your favorite dishes,
One Appetizer
If you are looking for a something Crispy from outside and cheesy inside then, Mozzarella Sticks is an ideal choice. this is served with marinara sauce to add extra flavor to this great appetizer. You can also choose Ranch dressing instead of marinara sauce.
Applebee's Onion Rings are just amazing and breadcrumb-coated. They are fried until golden color and served hot.
If you are looking for something healthy and light then choosing Applebee's Side Salads is the best option. They are incredibly delicious and served with different dressing options.
Applebee's Crispy tender boneless chicken is absolutely relishing and tossed with your choice of sauce. You can select either Bleu cheese or house-made ranch dressing for serving. This is one of the popular appetizers to choose from.
This Creamy spinach and artichoke dip is certainly going to impress you. The Dip is topped with Parmesan cheese and served with fresh and crispy white corn tortilla chips. The chipotle lime salsa is going to add the spice you are looking for.
Two Full-Size Entrees
If you are one of the Riblet lovers out there, then this dish is an absolutely perfect choice. Their riblets are slowly cooked and dipped in your choice of sauce. They are served with coleslaw and classic fries.
Grilled Oriental Chicken Salad
This is an absolute classic dish made with grilled chicken and topped of fresh Asian greens. The crunchy noodles and crispy almonds are an addition of taste.
Fiesta Lime Chicken is one of the most popular dishes at Applebee's. Their Grilled chicken is served with an amazing zesty lime sauce and drizzle of tangy Mexican-ranch. The tortilla strips served with a side of Spanish rice and Pico de Gallo are just going to add the finishing touch.
Double-Glazed Baby Back Ribs
This slow-cooked is amazing and served with bone tenderness. The Baby back ribs are slathered with sauce of your choice and served with classic fries.
This Juicy beef patty cheeseburger is one of the classic American dishes. It is topped with cheese, tomato, onion and pickles to add extra flavor. If you are a great fan of Applebee's cheeseburger, then this is a perfect choice.
Classic Broccoli Chicken Alfredo
This juicy grilled chicken is full of flavors and served warm with fettuccine pasta. The Applebee's signature brown breadstick is served on side to add an extra crunch. Make sure to order this if you are a fan of Italian food.
The next item on Applebee's 2 for $25 menu is Crispy chicken tender's platter. If you are looking for something grilled and a bar classic, then this is a perfect choice. This dish is served with a coleslaw and fries with your favorite choice of dipping sauce.
Bourbon Street Chicken & Shrimp
Now it is time for Shrimp to roll in. The Bourbon Street Chicken and Shrimp are served sizzling and spicy with sautéed mushrooms and onions. This Cajun cuisine-styled dish is heavenly and worth trying.
If you are craving for grilled Steak today, then trying this Applebee's Sirloin is an ideal option. Their Steak is cooked perfectly and served hot. You can choose your favorite topping although the steak is served with broccoli and garlic.
Applebee's Whiskey Bacon Burger is fantastic and rich in flavor. Their burger is stuffed with the beef patty and two slices of Pepper Jack cheese. The crispy onions and Whisky-infused steak sauce just adds up to flavor. The crispy fries served along with burger completes your lunch meal.
Visit their official website (www.applebee's.com) or download their app which is available on both iOS and Android.
What are the Famous Deals of Applebee's?
So, here are few famous deals of Applebee's which can help you save a few dollars during your family dine-in.
Add a Dozen Double Crunch Shrimp for $1 to any steak entrée.
you can use this deal to have a Dozen Double Crunch Shrimp for $1 with ordering any Streak entree. You can enjoy the golden crispy shrimp just for $1 along with a plate of steak and sizzling cocktail.
Applebee's $6 Saintly Sips.
You can choose Applebee's famous drinks with the Tipsy Leprechaun or Pot O' Gold Colada at just $6.
Tipsy Leprechaun: you can enjoy top-shelf tea with Jameson Irish Whiskey, melon liqueur, blue curaçao, premium lemon sour, lemon-lime soda, and a rainbow sugar rim.
Pot O' Gold Colada: Try Applebee's piña colada which features Captain Morgan and mango.
Conclusion
So, this is all about Applebee's 2 for $25 Menu. The prices of items and their availability may vary based on your location. Applebee's Daily Specials are available throughout the week and continues to save a few bucks into your pockets. We would like to hear more from you in the comments below. Have a great day guys!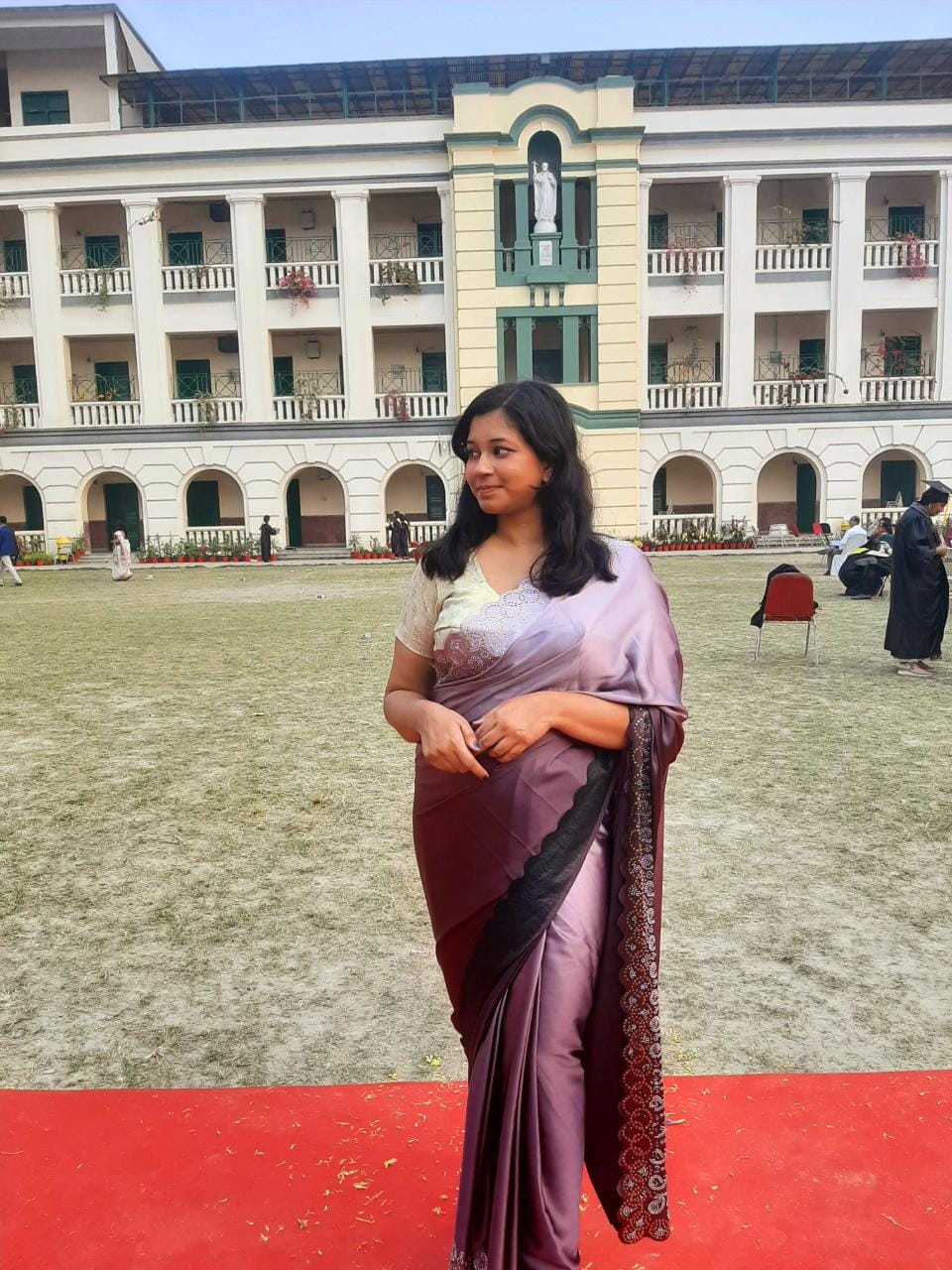 Namrata Laha is an aspiring content writer, She is an English Honours Graduate from the reputed St. Xavier's College, Kolkata. She is willing to complete her Masters along side carrying out her role as a private tutor.