Are you a crazy food freak looking for the amalgam portrayal of a historic culture with the modified urban scenes? Then you are at the right location in Tulsa. The green surroundings with unique sites are a pleasure to visit. Here the diversified food stuff can enrich you with the amazing spot experience in Best Restaurants Tulsa.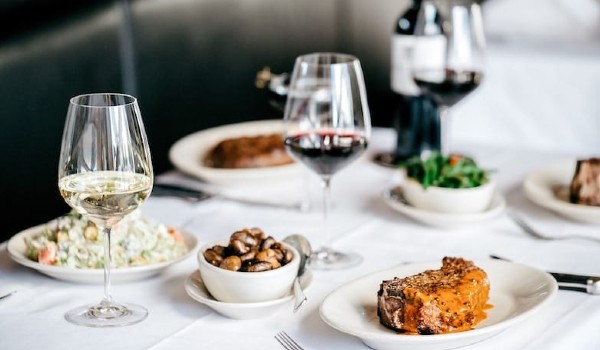 We are here to assist you to find your best destination site via the food collection or the twist of aroma in the top demand by fans.
Taste the Best:
What is Special in Best Restaurants Tulsa?
The soothing environment for the break weekend or the daily mood exposure with the zeal full likable spicy treat to taste buds can be a countable specialty to Best Restaurants Tulsa.
10 Best Restaurants in Tulsa
The Bros. Houligan
Villa Ravenna Fine Dinning
Amelia's Wood fired Cuisines
Nola's Creole & Cocktails
Sisserou's – A taste of the Caribbean
Charleston's Restaurants
Kilkenny's Irish Pub
Redrock Canyon grill
Andolini's pizzeria cherry street
Juniper Restaurant
To know before selecting one of your favorites, peep inside each to satisfy the need.
1. The Bros. Houligan
The well-known destination site is considered to be the full-service bar and American restaurant at 4848 S Yale Ave, Tulsa, OK-74135 or 918-254-1086.
What can you get here?
A cheeseburger with Houligan chicken club can greet your taste.
In the main appetizers, you can look for Onion Rings, Deep Fried mozzarella with long piled-up dishes apart.
From the burger basket corner, cottage fries, apple sauce, and a lot of sections to cover your plate.
Sandwiches and salads, kids' meals, and entrees will catch hold your attention to grab with options beside each.
2. Villa Ravenna Fine Dinning
The authentic Italian café site can be approached at 6526 E 51st St Between 51 and Sheridan at the farm shopping Center, Tulsa, OK-74145 or 918-270-2666.
The classic menu can have:
The various category listings can trigger you to taste all like antipasti with multiple dishes(Mozzarella, Proscuitto,&tomato, etc.).
Insalata group can have a healthy corner with greens and fruit recipes.
Zuppa can serve you lobster, mushroom, shrimp, and many more delicious dishes.
Pasta and salads can have varied forms with the warmth of soups at the location.
3. Amelia's Wood fired Cuisines
The specialized cocktail bar and south American cuisine-oriented restaurant rotate for wood-fired grills. You can fetch it at 122 N Boston Ave, Tulsa, OK-74103 or 918-728-2435.
The spot taste may offer you on a plate:
Amelia's holiday bakeshop offers foodstuff for brunch, breakfast, and holiday-baked dishes.
The socially distanced Sommelier can offer gifts with a wine selection in range.
Starter and shared plates of the dining menu can delight you with house-made sourdough.
Soups and salads can have Lemony Kale salad, etc.
Campfire salmon, Grilled beef tenderloin, etc. can be the focus on spot with many other companion dishes.
4. Nola's Creole & Cocktails
If you know about New Orleans cuisine then you can have the benefit of creole (West African, French, Spanish cuisines mash-up) culture together. Hold on to the Cajun restaurant at 1334E 15St, Tulsa, OK-74120 or 918-779-7766.
The offerings to the tongue:
Get your fabulous lunch, brunch, and drink with dinner all together under a single shed.
Pasta can have the long-range with Mardi Gras pasta, creole pasta, etc.
Lunch Creole And Cajun Specialities can make you amazed with Ju Ju Jambalaya and more options included.
Sides with red beans and rice, Coleslaw, Mac and cheese, etc. can have a long pipeline of tasty delight with desserts like Beignets, Key lime pie, etc. for you.
5. Sisserou's – A taste of the Caribbean
The unique combination of colored plated cuisine from the island of Dominica with the fusion of the natural Isle from the Caribbean is back with a bang. Get it at 107 N Boulder Ave C, Tulsa, OK-74103 or 918-576-6800.
Let's meet the environmental aroma here:
Here you can have the lunch and dinner menu options with the appetizers like a crab back, beef patties, Accras or code fish cakes, etc.
Soups range from Butternut squash, and callaloo with other food options besides salads like beet salad, seared tuna salad, etc.
Sandwiches can touch your heart loving awaited taste with the curry chicken, Mahi Mahi, etc.
Sides with dessert corner of Rum cake, sorbet, etc. get paired with the signature cocktails like Rum punch, Caribbean mule, traditional mojito, etc. to let you enjoy the refreshing moment.
6. Charleston's Restaurants
The restaurant of heart-catching sandwiches and burger hub zone with a plethora of edibles like steaks and many more. Grab the location at multiple sites like 3726 S Peoria Ave, Tulsa, ok-74105, or 918-749-4287.
What all you can have in common?
You can get food, drinks, and gluten-free options for individuals or families with the best services.
Starters with Queso, Today's featured soup, etc., salads such as chicken club salad, etc .can make your day.
Burgers and sandwiches like a cheeseburger, Reuben sandwich, etc., and chicken variations can make a paired blaster of taste.
The specialties corner is still left to check like grilled pork chops, etc. with many in the line with desserts to fill your heavenly plate with a delicious journey.
7. Kilkenny's Irish Pub
Are you thirsty? then check the place for beer combination drinks with the complete cocktail bar. Check-in at 1413 E 15th St, Tulsa, OK-74120 or 918-582-8282.
The spices secret to taste into dishes:
Let's have the feast with roasted peanuts, chips and salsa, crispy chicken wings, etc.
The soups and salads may delight you.
Brewhouse Caesar with heart-baked pizza can welcome late-night menu options with the throw of multiple options beyond the limit of your expectations!
8. Redrock Canyon Grill
The American grill can enclose the festive light and happy moments in the dishes to serve that you can get at 9916 riverside Pkwy, Tulsa, Ok-74137 or 918-394-7625.
Let's rock with taste:
The Sunday brunch specialty, drinks variation with a gluten-free solution can grab your focus to check the menu options.
Starters and salads like stuffed Poblano etc. can be with the wood fire roasted chicken, chicken thigh and legs, etc.
House specialties can have many like Persimmon hill meatloaf, etc. with other dishes for kids too.
9. Andolini's Pizzeria Cherry Street
Get the fragrance of rotisserie chicken with house-cooked American classics here at 1552 e 15th, St, Tulsa, OK-74120 or 918-728-6111.
The mesmerizing layout of lavish plates:
Daily slices with the roman slices of foodstuff category can have NYC street slice cheese and more options with the section.
Gluten-friendly 14" pizza can be your point of attraction.
The drink menu will hold on to Andolini's sliced draught beer and other sections of bottles and cans to make you fresh.
10. Juniper Restaurant
If you are farm fresh ingredients lover, then the restaurant matches you to have the best deal ever at 324 E 3rd St, Tulsa, OK-74120 or 918-794-1090.
Hold on to the table call:
The seasonal collection of rotating menus of local products of meat, cheeses, etc . can change into a delightful awesome flavored food to have at the moment.
The award-winning restaurant can have brunch, and dinner all available on site. Sandwiches, mushroom omelets, soups with brunch cocktails, and mocktails will become your favorite among all.
Still, the dinner options need to get explored by you.
Final wording
Now you are ready to plan for a visit to have your favorite taste buds treat in Best Restaurants Tulsa. Discuss about your view for the trip!
Also Read:
I started my journey as a researcher of modern website content related to food, restaurants, technology, etc. The technology-driven platforms triggered me to implement my learning of being a generation builder and nutritionist into the online reach of every click.